AN UNFORGETTBLE TALK
Monday 16th December 2019 was a great day at Jean-Moulin high school : we had the very good luck to meet and listen to the American general, consul Simon Hankinson.
He was born in Princeton, New Jersey, USA, and now he lives in France because he works in Marseille.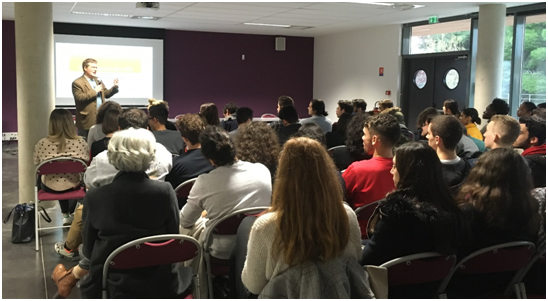 However, his working life was not limited by being general consul : far from it, believe me ! He had a lot of jobs, in every part of the working world.
He began being a printer, and after a bus driver. These works were not paid with a lot of money, but he learned a lot about these jobs, especially being a bus driver. He learned how to prioritize things, and to be happy with what he had. He became cooking second-in-command, and that was great for him : he learnt diplomacy, organization, and how important it is to have good relationships with everyone.
After, he worked as a temp, testing objects. According to him, it was the worst job he had, but he even found something positive in it : he learned to entertain himself because he was bored with this job.
The, he had various works, in every fields: construction worker, pizza's delivery, maintenance men, lawyer, taxi driver... and with each job, he found something positive to learn.
One work he especially liked was when he was life guard. He was saving lives in camps, he had to care about people. This work was very rewarding for him because he felt that he was useful, that he could help the others.
This contact with people was something that he didn't want to leave, so he decided to become a teacher. He taught History, English and Drama. But his working experience was not finished !
He became a diplomat and was part of the Very Important People in Washington.
Afterwards, he decided to travel. He became Vice-consul in India, accepting and refusing visas to people ; he was setting movies in Fidji Island ; he went to Western Africa to try to make good relations between the countries there ; he became second Secretary in Slovakia ; he went to Togo being prime Adviser ; and finally, he came to France.
In France, he is organizing events with congresses, with religious communities, making speeches and visiting high schools to meet French people and to show them what happens and what are the possibilites in the USA. He wants an easier trade between France and the USA, and wants to show that if you want to go to the US, it can be quite easy to find a job in a camp or in a restaurant.
Working with all this people, learning about everything, and having a lot of works, made him talk with incredible enthusiasm and humility.
Simon Hankinson's travel didn't end here, in France. "Maybe next year I'll be in Africa!", he told with determination.
He ended his talk by saying these peaceful words : "sometimes life is unfair, but too short ; so you have to fight. Don't believe you're limited by what the others are thinking, you've a lot of possibilities!"
Thanks to him for having come to our High school ! Definitively, it was a great day !
Thanks for having read this article !
Maurine Devoyon, TESL
-------------------------------------------------------------------------------------------------------------------------------------
Visite de M. Hankinson
Simon Hankinson, Consul Général des Etats-Unis d'Amérique depuis juillet 2017, est diplômé de diverses écoles dont un master d'Histoire Contemporaine, un diplôme de Droit, un master en Affaires de Sécurité Internationale...
Étant en voyage d'affaires en France, il a profité de cette occasion pour pouvoir faire découvrir aux élèves du lycée Jean-Moulin le fonctionnement de son pays, ou plus précisément de sa démocratie, à l'aide d'un diaporama. Il a également donné son point de vue et ses impressions sur notre système et son histoire.
Les élèves ayant participé à cela étaient de toutes classes confondues, il y avait aussi bien des secondes que des BTS ou des terminales. Ainsi on a pu s'instruire sur le fonctionnement et l'histoire politique des Etats-Unis et également améliorer notre anglais en nous forçant à faire de la compréhension orale et de l'oral si nous nous retrouvions interrogés ou si nous avions une question.
Dalel, 2GT08
--------------------------------------------------------------------------------------------------------------------------------------
Comments on Simon Hankinson's personal presentation

« Simon Hankinson is an American man who had an intense career. He told us that he did 23 different jobs, ones more difficult than others, and ones more boring than others. I was impressed by all the jobs he did because they were various, he didn't focus on only one direction. He travelled a lot and discovered many cultures. He also explained us what were the lessons he learned in every job and what were the qualities he needed to do that specific job. Finally he wonders what would be the next step he'll take. I'm fascinated about his career. »
Wiame, TL
« Simon Hankinson shared with us his interesting career, it was a really good experience to discover someone's life in that way. He actually did 23 different jobs, he went from a bus driver to a diplomat so that was really a good thing to know and understand that life can sometimes be really hard and that we don't get the thing we want without making any effort. »
Zahra, TL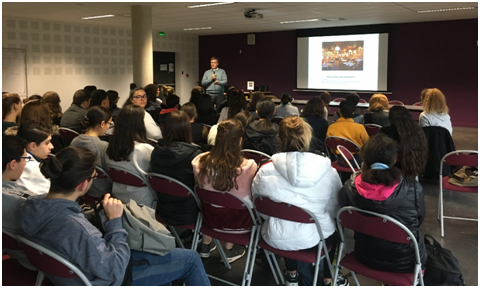 « What struck me most in M. Hankinson's presentation in his career, all the jobs he did, and the fact that he had to leave his country. »
Kubra, TL
« The life of Simon Hankinson is impressive. Most of the time, we don't think that a politician has so much work experience ! Also the jobs he did were not really skilled ones, many were menial jobs so he experienced precarity. »
Alice, TL
Biographie du consul Simon Hankinson : Biography_Simon_Hankinson__French_