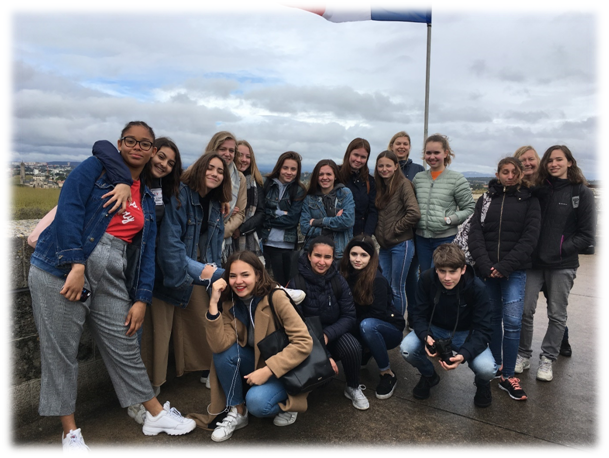 Programme
Monday :
First we arrived in Beziers, and we met the partners. Then we went to the house to meet the family. After that we went to our room to unpack the suitcases. We gave a nice present to the French students. For example we gave « stroopwafels » because it's typical Dutch cookie and the French students didn't know it before. After that it was time for our first dinner. We ate a typical French meal. It was delicious ! We also ate a fantastic dessert ! After this amazing dinner we went exploring to enjoy the view and to take some beautiful pictures. When we arrived back home, we got ready for bed. We watched a little TV and then it was time to sleep. It was an exhausting but awesome day.
Tuesday :
In the morning, we woke up at 7:00 am, we took the bus at 8:00 am and arrived at school at 9 :00 am. When we arrived we ate breakfast at school. There were croissants, cake, applejuice, or orangejuice… After this we visited the whole school, it's very big and different ! In the break the French student introduced us to their friends. At noon, we ate in the cantine, there was meat with pasta. In the afternoon we worked on the project which is about politics. After school we took the bus to go to a cafe nearby. We drank some coffee and a soda. When we finished our drinks we went back home with the bus. When we arrived back home we baked a chocolate cake, or watched a movie, etc… After that we showered and we got ready for dinner. We ate a typical French meal and an awesome dessert. We were very tired from the day so we went to bed.
CANTEGRIL Cloe, BORRELLI Alicia, SAUR Pauline, HEIJKERS Irene, HEIJKERS Amber, POSTMA Joey, GERITS Max
Wednesday, Thursday & Friday :
I choose to talk about what we did in the week. So on monday in the afternoon I took Louise to my home to drop her suitcase to my place and after this, with my friend and their correspondents and mine we went to the café and after with Océane, me and our correspondents we went to the Cathedral of Béziers because Ton wanted to film the view. On tuesday we did a visit of the high school and after we talked about politics. After school we went to the café again. On wednesday, we had theater at school and after we all went go to the bowling. On thursday we went to Montpellier and we had free time in the city. On friday the correspondents are leaving.
Zoé Struczyk – Ilse - Kamélia Ali Haimoud – Soumaya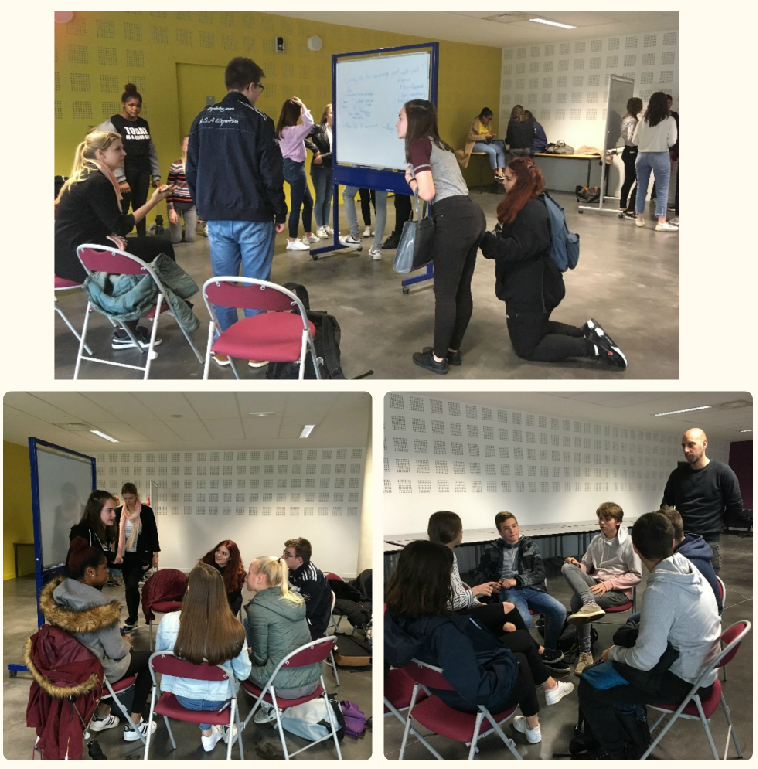 Thursday : Montpellier visit
At 8 a.m we took the bus to Montpellier. After one hour we arrived next to the « Corum ». After we walked to the « Place de la Comédie ». There we met the Tour guide who showed us the history of Montpellier and gave us some anecdotes. For example, people made their windows smaller to reduce the taxes. We visit a lot of « Hôtels Particuliers ». After we went to an « Arc de Triomphe », and we had a nice view on the cathedral. We could also see the fence in front of the tour. We got a break, and we walked around, ate some of our food made by the French students. After that break, we went to the « Great Men square » to film our interviews with for example « Mao, Jean Jaurès, Gandhi ». After we had another free time in the shopping mall called « Odysseum » for 1:30h. We went to the supermarket and bought some food and drinks, we also went to a game store, but didn't buy anything. Then we got back to the bus and got back to Béziers and went back home.
Alexandre LE GRESSUS & Sil, Axel ALTADILL & Arnold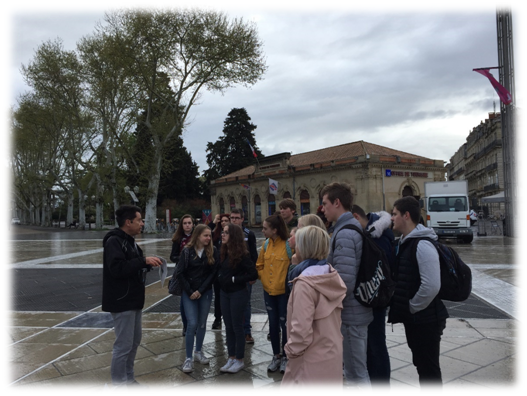 Cultural differences
There are a lot of differences between the Netherlands and France, here are a few.
In the Netherlands, we eat around 6 P.M. , but in France they eat at 8 / 9 P.M. So that's a big difference.
In France, the school starts at 8 A.M. But in the Netherlands we start at 8:45 A.M. Also in France the school days are very long, they end at 5 P.M. In the Netherlands we end at 3 P.M.
In the Netherlands, everyone uses the bike to get to school, literally everyone. But in France, almost everyone uses the bus to get to school.
The school in Béziers is really large and there are a lot of different buildings. In the Netherlands we only have one building. Besides there is only one building in the Netherlands's highschoom, the building is nicer and more modern than the buildings in Jean Moulin's highschool.
We really enjoyed our week here. It's a beautiful city to see.
By Ambre Velleyen, Louise Rietra, Océane Le Bagousse, Ton Vossen
School
There are many differences between Dutch and French schools. For example the time we go to school, in Holland the students start at 8:45 and we end at 15:00. In France the students start at 8:00 and they end at 17:00. So in France the schooldays are longer. Another example is the way we go to school, in Holland most students go by bike and in France they walk or take the bus. Here, in France, there are much more students, about 2300. But here are also people who go the campus and that's not in Holland. In Weert there is just one building and in Béziers there are four buildings. The biggest difference between Holland and France is the lunch. In France they get lunch at school and it's warm, while the Dutch students have to bring their own lunch and it's less. And the last difference is the distribution between the levels at school. In Holland there are three levels: mavo, havo and vwo. And that's not in France. These were the biggest difference.
Aniek, Aukje, Christiane and Eve
Food
There are a lot of differences about food in France and food in the Netherlands. The people eat different types of food and they eat at different times.
Breakfast
Down here, you see differences between what we eat in the morning:
Dutch Breakfast
bread with something on it; cheese, hagelslag, nutella etc.
or yoghurt with cereal and fruits
fruit
water, milk, tea, coffee etc.
| | |
| --- | --- |
| French breakfast (your breakfast): | |
pain complet or baguette
pain chocolat
croissant
brioche
jam
orange juice, water, coffee etc
In the Netherlands we have school from 8:45 until 14:55, we have two breaks, one at 9:55 until 10:30 and the other break on 11:45 until 12:20. You have school from 8:00 until 16:55, you have three breaks. One at 9:50 until 10:05 and the second one at 12:00 until 12:55 and the third one at 15:45 until 16:00.
In the afternoon we eat just bread with something on it, like in the morning, in the Netherlands. And you eat a warm meal from the cantine. Dutch children have to bring their own bread to school from home. You can buy something in the cantine, but that are just panini's and banguette.
Typical Dutch things:

drop

stroopwafels

roze koeken (cake with pink glaze)

hagelslag (chocolat springles)

cheese on bread in the morning and afternoon

boerenkool met worst

Gouda (cheese)

poffertjes (little pancakes)

haring (herring)

kroket (croquette), bitterballen (fried meat balls)

kruidnoten (perpernoten) = little pieces speculaas

gourmette

Typical French things:

éclair

macaron

nougat

meringue

madeleine

croissant

pain chocolat (chocolat croissant)

pain complet

escargots (snails)

crèpes

vin

blanquette

ratatouille

raclette

camembert
Dinner
In the Netherlands we eat around 18:00, you eat around 20:30. You eat very late the contrary to us, we eat earlier. We eat also more vegetables around 250 – 350 gram each person every day. Also the meat isn't really baked/cooked. It's mostly a little bit red.
Dessert
| | |
| --- | --- |
| Dutch breakfast: | French dessert: |
Célia, Emilie, Irene & Bo
Pour écouter le compte rendu des élèves, allez sur le lien vers RJM, la webradio du lycée Jean-Moulin !